Are you looking for a natural, homemade cough syrup that really works? Here are a few old fashioned recipes that are super simple to make!
These easy home remedies for cough and congestion are made with ingredients that you probably already have in your pantry and most are safe for children.
(*Honey is not recommended for children under 1 year of age*)
If you or someone you love has a cough that is irritating or really hangs on, try one of these homemade cough syrup recipes and find relief!
---
Disclaimer: I am not a doctor, nor do I play one on my blog. This information is from my personal experience and research that I have done. If you or someone you know has trouble breathing, please contact your health care practitioner.
---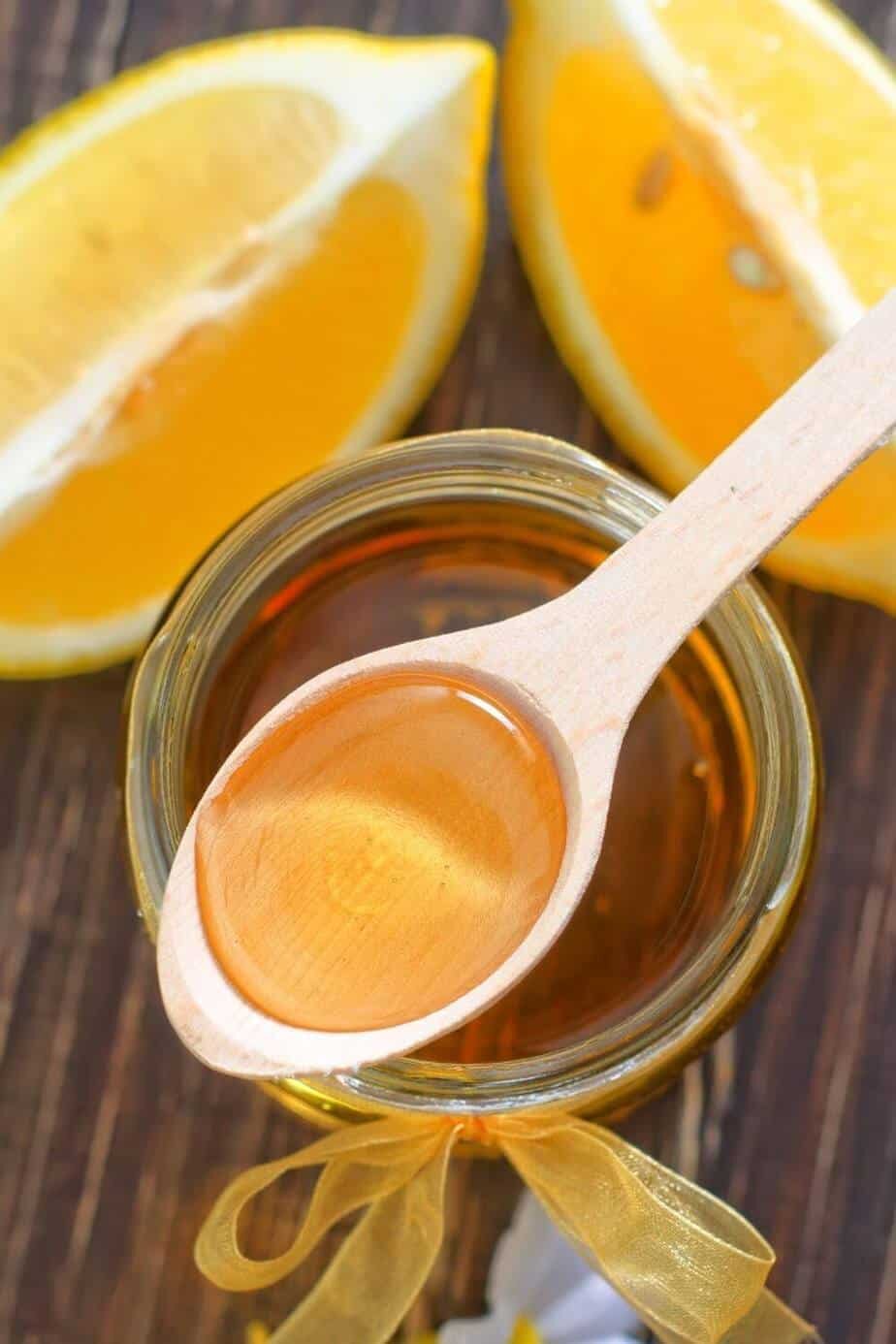 ---
Honey And Lemon Cough Syrup
Honey and lemon homemade cough syrup takes just minutes to make and can help suppress those irritating coughs that drive you crazy!
While a cough in an otherwise healthy person actually serves a purpose, anyone that has had a cough all night knows that sometimes you just need something so you can get a little rest.
That's where honey comes in!
Mixing honey, lemon, water (and even a dash of cinnamon) can help soothe a sore throat, reduce coughing, and improve sleep.
---
–Interesting Fact–
In a study of children with upper respiratory infections, 2 tsp. of honey at bedtime was just as effective as the common cough suppressant dextromethorphan.
---
If you do a search for homemade cough syrup with honey and lemon or something similar you're bound to find a number of recipe variations.
I'm just going to give a basic honey and lemon cough syrup recipe but if you want to add other ingredients, feel free! Start with the basics and make it your own 😉
---
Honey And Lemon Cough Syrup
Ingredients:
3/4 cup of raw honey
1/4 cup of extra virgin olive oil (or your favorite healthy oil)
2-3 lemons (can increase or decrease according to taste)
---
Instructions:
Add honey, lemon, and olive oil to a small pot or saucepan
Heat over very low heat, stirring often
Only heat until thoroughly mixed!
Remove from heat and let cool
Pour into a jar with a lid
Store your homemade cough syrup in the refrigerator
Take 1 tablespoon as needed (warming it slightly first is best)
---
Interested in adding a little something extra to your honey and lemon homemade cough syrup? Here are a few ideas!
1/8 tsp. cinnamon
1/8 tsp. cayenne pepper
1/8 tsp. ginger
2 Tbsp. apple cider vinegar
1 shot of whiskey (mix whiskey, honey, and lemon together and you can make a hot toddy!)
---
All of the spices have medicinal properties and could potentially add to the effectiveness of the recipe.
* I should note- whiskey or hot toddies are an old-fashioned remedy for cold or flu but alcohol can contribute to dehydration, interact with medication, and may lower the immune system. So, if you choose the hot toddy route, you might want to stick to just one or try a non-alcoholic version 😉
---
Not sure about taking honey and lemon as a cough syrup? Check out this honey, lemon, and ginger tea recipe!
It's a cozy, comforting recipe for when you don't feel well or even on a cold winter day!
Onion Cough Syrup
If you're just jumping into the world of traditional remedies, this one might seem a little weird.
I can promise you that it really does work though!
After coming down with a particularly nasty cold, I ended up with a cough that was driving me crazy! While at a doctor's appointment (for a different ailment), she noticed that I couldn't quit coughing and suggested this remedy.
I went home, made it, and started taking it. To my sheer delight, it helped immensely!
So, now I'm sharing with you in hopes that it can bring that same relief.
---
Onion Cough Syrup Recipe
Ingredients:
---
Instructions:
Chop onion
In a glass jar, put the layer of onion in the bottom
Add 1-2 tsp. of honey on top of the onion layer
Continue to alternate layers of onion and honey (the jar doesn't need to be filled though!)
Let the onion and honey sit for a few hours
Take a spoonful as needed for coughing
---
Interested in another onion recipe for cough and congestion? Check out this onion poultice recipe!
Pineapple Juice
Pineapple juice alone can help with cough or congestion.
Seems strange, doesn't it?
Apparently, bromelain, which is an enzyme in pineapples, can aid in breaking up and expelling mucus and has been found to have anti-inflammatory properties.
---
-Interesting Fact-
A pineapple juice mixture was found to be part of an effective treatment for tuberculosis.
---
Interested in the recipe that was used in the tuberculosis study? Here's what you need:
1 cup pineapple juice
pinch of salt
pinch of pepper
1 1/2 Tbsp. raw honey
Mix well and drink 1/4 cup up to three times per day.
Health Benefits Of Homemade Cough Syrup Ingredients
If you're looking for the best cough syrup to stop coughing and would like to make your own, there are three great recipes above that you can customize for taste or individual health needs.
But, you may be wondering why these work.
Let's take a look at a few of the main ingredients and their health benefits!
Honey
Raw honey has so many uses and benefits! It is a good source of antioxidants, has antibacterial and antifungal properties, helps to soothe and heal wounds, and is considered prebiotics and nourishes good bacteria in the gut.
---
Ginger
Ginger is amazing for cold and flu relief, digestive trouble, and overall health. It has anti-inflammatory and antioxidant effects that can help reduce inflammation, lower pain levels, fight infections.
---
Lemon
Lemons are a great source of vitamin C, can help with digestive health, helps prevent oxidation, aids in hydration, provide some potassium, and is great tasting!
---
Onion
Onions are not only delicious but are also packed with vitamins and minerals, contain antioxidants, have antibacterial properties, and are high in vitamin C.
---
Pineapple
Pineapples are high in vitamin C, rich in nutrients, can help lower inflammation, boost the immune system, and aid in digestion. Not to mention, pineapple juice makes for a really tasty cough syrup, unlike some of the not-so-good store-bought options.
Tips For Making The Best Homemade Cough Syrup
---
Start With Fresh, Organic Ingredients
Fresh organic ingredients will give you the best-finished product without added chemicals or pesticides. Not able to buy organic? No problem, just buy the best quality you can get your hands on!
---
Just Say No To Homemade Cough Syrup Recipes With Essential Oils
This is important! There are MANY recipes out there for cough syrups and other home remedies that call for essential oils, but please reconsider. Essential oils are not to be taken internally (in most cases, and then only under strict supervision by a professional).
This is true for ANY brand.
I know that there are some brands and representatives that claim internal use is fine because their brand is superior, please do not believe this. I have consulted with more than one licensed professional about this subject and all agree that ingestion is not recommended.
---
Don't Be Afraid To Experiment With Ingredients
Is plain honey and lemon helping but not as much as you hoped? Add some ginger, cayenne, or apple cider vinegar to your homemade cough syrup. Maybe your stubborn cough needs a more powerful kick!
Homemade Cough Syrup Alternatives
Speaking of store-bought options, I thought I would include a little section of healthy alternatives to homemade cough syrup in case you don't have the ingredients to whip up your favorite recipe or just don't feel like making your own (we've all been there 😉 ).
---
This post may contain affiliate links, which means I'll receive a commission if you purchase through my links, at no extra cost to you. Please read full disclosure for more information.
---
Maty's Organic Cough Syrup
---
---
This cough syrup is certified organic and contains many of the ingredients in the recipes above! This syrup can help calm and soothe a sore throat and cough naturally and boost the immune system!
Herbs For Kids Eldertussin
---
---
I know that this is for kids, but in our family we have all used Herbs For Kids Eldertussin and found it to be quite helpful. Since this herbal cough syrup was formulated for kids you know it's safe, gentle, yet effective! The only downside- if the whole family is taking it you will need to buy a few extra bottles.
Christopher's Herbal Cough Syrup
---
---
Christopher's herbal cough syrup has kind of an outdated label, but don't make your decision based on that. We have tried a few products from this company and are always pleased with them, and this is no exception. This herbal cough syrup contains wildcrafted herbs, contains no fillers or chemicals, and is a product that has been around for many years.
Last Thoughts About Homemade Cough Syrup
When you have a cough you need quick relief! But don't reach for the brands with fillers, preservatives, and chemicals.
Try your hand at making these old-fashioned cough syrup recipes (just like Grandma used to make)!
They are easy, affordable, and you probably have most, if not all of the ingredients in your pantry.
Give these recipes a try and add a few more remedies to your natural medicine cabinet 😉
Interested in staying well through cold and flu season and beyond?
Check out these 5 herbs to support a healthy immune system!