Looking for easy and effective natural remedies that can help you stay healthy this winter? If so, take a look at this folk remedy called fire cider!
Sounds both intriguing and a little scary, right?
That's what I thought too when I first heard about it, but don't worry, it's really not too strange 😉
---
Related: Honey, Lemon, & Ginger Tea (Health Benefits & Easy Recipe)
---
What Is Fire Cider?
Basically, fire cider is an infusion made of vegetables, herbs, and vinegar that ferment for about a month.
This produces an apple cider vinegar tonic that is great for overall health and wellness!
There are commercially available products, but making your own is really easy, kind of fun, and you can customize it to meet your specific taste or needs.
Benefits Of Fire Cider Tonic
Many who have tried a traditional fire cider tonic have said that taking it gives them more energy, keeps colds and flu at bay, helps with sinus congestion, and aids in digestion.
A quick look at the base ingredients and their individual benefits shows us that fire cider is a mix of common foods that make a potent natural medicine!
---
Commonly Used Fire Cider Ingredients
Apple Cider Vinegar- known to kill bacteria, aid in digestion, and contains important minerals and antioxidants
Horseradish– has antibacterial properties, stimulates digestion, and can help with sinus congestion
Cayenne– increases circulation and anti-inflammatory
Ginger– helps with infection, digestion, and stomach issues such as nausea and vomiting
Onion– has antioxidants and anti-inflammatory properties
Garlic– has powerful medicinal properties, is antibacterial and antimicrobial
Raw Honey– contains antioxidants, has antibacterial and antifungal properties, helpful for digestive issues, heals wounds, and is soothing to sore throats
As you can see, this infused tonic contains powerful ingredients!
---
How To Use Fire Cider
If you haven't been exactly on board with trying this strange, yet amazing concoction, you might be interested to know all the ways you can use it.
You can take 1-2 Tbsp. straight, although that might be a little much for some of us (I am absolutely talking about me!).
Or, you can choose one of these interesting and delicious ways to add a little fire cider tonic to your daily routine:
Can be used as a rub for sore muscles or achy joints (a different, but supposedly effective remedy!)
Use as a marinade
Add to soups or stews
Use as the base of a salad dressing
Add to any dish that needs a little flavor
Mix with hot water and extra honey to make tea
---
And last, but certainly not least- you can add fire cider to Bloody Mary's or make cocktails!
Just an FYI- this spicy tonic is also known as an effective hangover cure ;).
Storage And Shelf Life Of Fire Cider
If you're sold on making a little fire cider you're probably wondering how to store it and how long it stays good.
The general consensus is that storing your homemade mixture in the refrigerator or a cool, dark place is best.
As for shelf life, I have seen some recommendations for up to 6 months and others say 1-2 years. It's not surprising that long shelf life is possible, apple cider vinegar and honey are two of the best preservatives!
If you have yours longer than recommended or ever feel like something is off with your brew, err on the side of caution and pitch it!
Ready for that quick and easy fire cider recipe?! Here you go!
---
Printable Traditional Fire Cider Recipe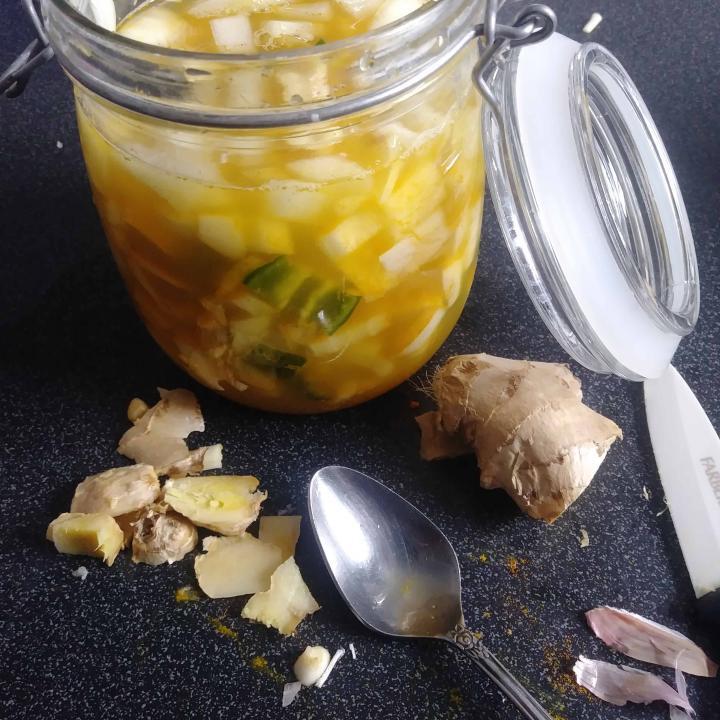 Easy Fire Cider
Fire cider is a traditional, immune-boosting recipe that is easy to make with simple ingredients from your pantry.
Ingredients
2 jalapeno peppers (chopped)
1 medium onion (chopped)
8-10 cloves of garlic (crushed)
1/4-1/2 cup of grated ginger root
1/4-1/2 cup of grated horseradish
1 Tbsp. turmeric powder
1-2 Tbsp. rosemary leaves
1/4 tsp. cayenne powder
juice from 1 lemon (can add a little zest too if desired)
1/4 cup of raw honey
apple cider vinegar
Instructions
Grate, crush or chop all necessary ingredients
Put all ingredients in a glass jar
Add apple cider vinegar and fill to the top of the jar
If the lid is metal you will need to put a piece of parchment paper or some other barrier between the jar and the lid or use a plastic lid. Give the mixture a good shake
Store in a cool, dark place for about a month
Shake daily
After about a month it is time to strain the vinegar from the ingredients. Use cheesecloth and pour the vinegar through into a clean jar.
Add the honey, be sure to mix well
Give your fire cider a taste. Add more honey if needed.
---
Related Articles
Fermented Garlic And Honey: Health Benefits, Uses, & Easy Recipe
Honey Lemon & Ginger Tea (Health Benefits & Easy Recipe)
How To Make Pine Needle Tea (+Health Benefits And Easy Recipe!)
Elderberry Syrup For Flu Prevention And Recovery
5 Herbs To Support A Healthy Immune System
10 Tips For A Naturally Healthy Cold And Flu Season
---
---