Desiccated liver is dried beef liver powder that is a traditional superfood! This excellent dietary supplement is a convenient way for people who don't like the taste of liver or organ meat to add vital protein, amino acids, and other vitamins and minerals to their diet.
And if you struggle with low iron levels, you should know that desiccated beef liver is a great source of heme iron.
Listen to this blog post!
These whole-food supplements can provide high-quality nutrients for your body in a way that is the easiest to absorb.
No matter if you are just beginning your journey to better health or are looking for ways to incorporate nutrient-dense foods into your current program, desiccated liver is definitely a supplement you will want to consider.
If you suffer from symptoms of adrenal fatigue, anemia, low thyroid, or are just looking to add healthy foods to your diet, this article to help you learn the ins and outs of beef liver supplements and how they could benefit your overall health.
---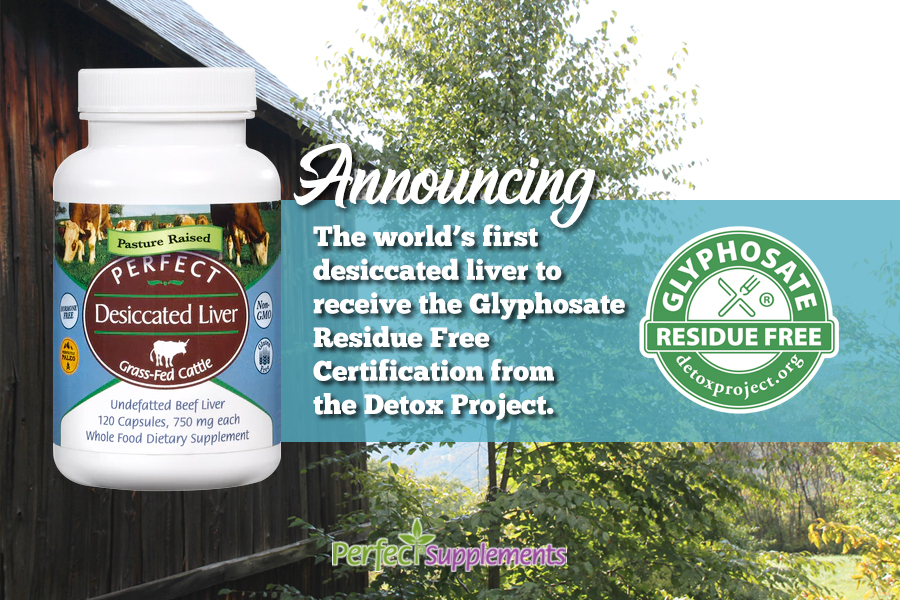 This post may contain affiliate links, which means I'll receive a commission if you purchase through my links, at no extra cost to you. Please read full disclosure for more information.
---
Curious to see how grass-fed beef liver can help provide the basic building blocks so you can have better health and higher energy levels?
Here's what we'll go over….
---
What is Desiccated Liver?
Desiccated liver is basically dried beef liver capsules (although it is available in powder form too). It is an easy way to add this superfood to your diet, especially if you're not a fan of eating liver.
Desiccated liver offers the same benefits as eating liver, only it is dehydrated and put into capsules.
The process is actually fairly simple- they take liver from healthy cows and cook it on the lowest possible heat for a long time.
The goal of this method is to remove all of the moisture from the liver and keep the dense nutritional value.
This process turns a beef liver into powder form, which is then placed into capsules for easier consumption.
---
Why Choose Desiccated Liver Over Eating Liver?
Beef liver from grass-fed cows is considered one of the healthiest meats on the market and is often consumed by people looking to integrate more nutrients into their diets.
So why do some people prefer desiccated liver over simply eating it for dinner?
desiccated liver is can be more cost-effective compared to buying and preparing the meat on your own
with supplementation you can enjoy all nutritional benefits of liver without the taste
and don't forget convenience
If you're busy, have forgotten to add liver to your shopping list, or are having trouble finding a good supplier of quality liver, then supplementation may be for you.
Another important reason to consider a desiccated liver supplement is that you want to make sure you are getting the highest quality product in the purest form. Not all beef is raised well, therefore the nutrient content can vary.
With a high-quality liver supplement, however, you are guaranteed meat that was grass-fed, pasture-raised, and full of the best nutrients for your body.
---
What Are The Health Benefits of Desiccated Liver?
Taking desiccated liver has plenty of health benefits and it is considered one of the most nutrient-dense supplements available.
Just a few of the amazing health benefits of liver:
Great source of protein
Increase energy
Boosts the immune system
Helps metabolism
Can aid in raising iron levels
Helps maintain healthy cholesterol levels
Aids in achieving or maintaining healthy blood sugar levels
Supplies nutrients necessary for good heart health
Supports brain function
Excellent source of nutrients for good liver health
---
When you take a high-quality liver supplement your body will be able to absorb and utilize the important vitamins and minerals in the best way possible.
Liver has been shown to be an important source of Vitamin A, C, and D. (And we know that Vitamin C is important for adrenal fatigue recovery as well as overall health and wellness!)
It also contains B-complex vitamins, calcium and copper.
Taking the recommended daily dose can help you feel your best as these essential nutrients will nourish your body, increase energy, boost immunity and so much more!
---
Is Desiccated Liver A Good Source Of Iron?
Liver is known for the high amounts of iron in it as well, and these capsules are no exception.
For those suffering from low iron or anemia, the desiccated liver capsule is the perfect solution.
Many iron supplements are harsh on your stomach, cause constipation, are isolated nutrients, and can be poorly absorbed, especially if you have gut or digestive issues.
But desiccated liver is different, it is food-based, has all needed co-factors, and is a gentle yet effective form of very useable iron.
I have heard from quite a few women that deal with anemia (myself included!) who use desiccated liver for low iron levels and have seen a positive improvement in iron levels along with energy and overall wellness!
My grandma's doctor even prescribed liver for her low iron and Vitamin D levels because it was a far better option than low-quality supplements or prescriptions that have possible side effects.
And it worked like a charm, at her next visit her blood levels were all right where they needed to be 😉
---
Want More Energy? Try Desiccated Liver!
Liver supplements are one of the most popular in health communities worldwide.
In fact, the natural supplement is favored around the gym and health clubs for decades.
When consumed, the desiccated liver has proven to improve endurance as well as muscle strength.
Since it also contains some of the purest forms of protein, you will often find this supplement in bodybuilder's
gym bags.
If you are looking to get some motivation to join a gym and focus on your fitness, then taking desiccated liver can be a great motivation to get you moving!
And since it increases energy, you'll be trying out that new exercise class you've been thinking of joining in no time.
---
FAQ's About Desiccated Liver
Still have a few questions about desiccated liver? Understandable! Let me see if I can help.
1. What Are The Side Effects Of Taking Desiccated Liver?
As with any drug or supplement, it is always best to be aware that everyone is different and side effects are always possible.
While not severe, there are reports of people experiencing diarrhea as well as itching when taking desiccated liver. This is thought to be caused by the high amounts of B12 found in the desiccated liver but it is unclear if that is the definitive cause.
While side effects are not common, there are some people who actually may also feel flu-like symptoms (nausea, headaches, dizziness) when they start taking desiccated liver. Many who experience this reaction have reported that they have an autoimmune disease.
If you are sensitive or have a health condition, always consult your health care provider to see if this supplement is appropriate.
And in addition to that, start with just a small amount and work up slowly to the recommended dose.
2. How Long Does It Take For Liver Pills To Work?
That's a great question, but it really depends. I know people who said they have started to feel a little more energy in as little as a few days to a week, and others that took a little longer.
Personally, I did notice a small difference in energy levels in a few days and continued to notice positive changes for a week or so, and then it seemed to level off as I assume my body was adjusted.
3. Where Can You Find The Best Desiccated Liver Supplement
So, you've decided to give desiccated liver a try, but now you might be wondering how and where to find the best option.
There are many desiccated liver products on the market, so finding it isn't difficult, but how do you know which one is the best?
I can help you with that!
When you're shopping for supplements here are a few tips:
Make sure the company uses an independent lab for testing
Look for a product that is non-gmo, glyphosate free, contains no heavy metals or allergens, and is as pure as they claim
Check to see if the company provides an origin statement (they should be able to tell you right where their product is from)
Make sure the supplement is free from antibiotics, pesticides, and hormones
If it's not available, ask the company if the product is free from radiation and ethyl oxide
See if the company provides a nutritional analysis
The good news? There is a product that meets all of these requirements!
Perfect Supplements Desiccated Liver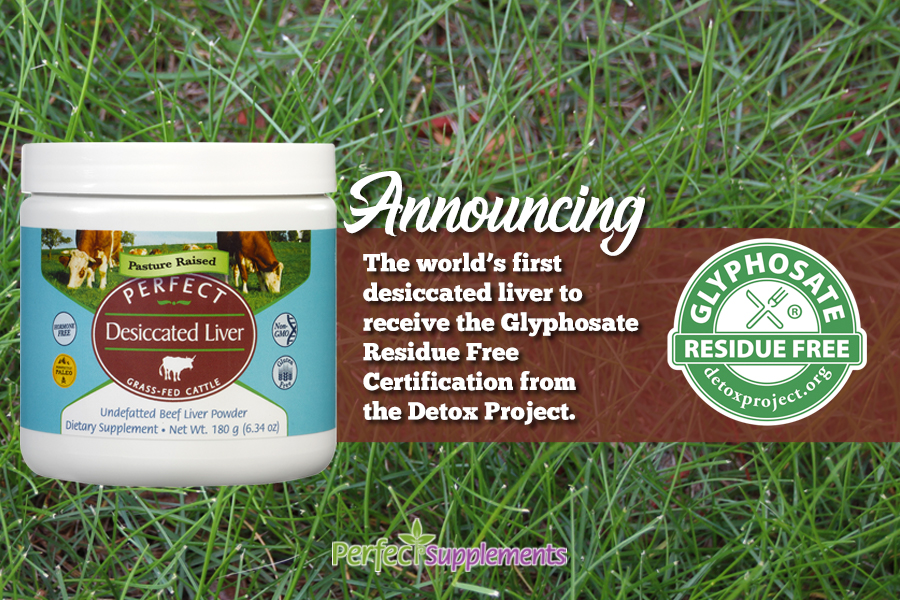 I have looked at many different products available but this is the only one that checked all of the above criteria. And it is the only one I really felt comfortable trying and recommending to those I love 🙂
In fact, it is the only liver supplement tested and found to be free from glyphosate residue.
That, in addition to the transparency of the company and availability of the information, really pushed this product ahead of the rest.
---
A Few Last Thoughts About Desiccated Liver Supplements
There are several reasons to add a quality liver supplement to your health routine.
Whether you are trying to increase iron levels, boost energy, or just looking to add a nutrient-dense superfood to your diet, adding desiccated liver can be an easy way to add vitamins, minerals, and other nutrients to support good overall health and wellness.
Just remember- even though this is considered a very safe supplement (I mean, it's food!), if you are sensitive or have a health issue, be sure to talk to your health care provider and start with a low dose and increase slowly!
Have you tried desiccated liver? If so, what did you think? Let me know in the comments below!
---
Related Articles
---